When I first started wearing swimwear briefs to the beach I had no idea that I was going to be the talk of the town. I guess it helped that I live in a really small town and no one else was wearing anything like this except me. In fact, I believe I was the first person here to wear something other than standard shorts to the beach. The looks that people were giving me were quite amusing, too. Some people looked like they were about to have an aneurism while others looked like they were half way between appalled and excited.
Since then, I have seen other guys walking around in swimwear briefs on our little beach and they always look at me like they are saying thank you with their eyes. I guess these guys had wanted to wear something different to the beach but they were afraid to show off their bodies. Once I came out and made it known that men could wear something other than trunks or shorts, they were free to have some fun of their own. It only takes one guy to go out on a limb and show the world a different side of reality and others will more than likely follow.
This wild design includes a penis shaped sleeve so you can work out or wear this erotic suit to the beach.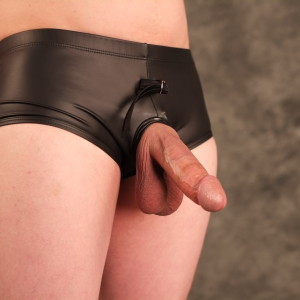 If you are looking to get into wearing men's swimwear briefs, now would be a great time. These things are starting to become quite normal on all the beaches around the world and no one would stare at you strangely if you decided to jump on the wagon with them. However, there are some brief designs that you might want to stay away from unless you are prepared to be that one guy out on a limb. You will be able to tell which ones those are by the design and how much body is being shown by a model wearing them in online pictures.