I have always been curious about wearing swimwear briefs to the beach but I'm not the type of guy that would look good in something like that. In fact, when I go to the beach I do my best to hide as much of my body as I possibly can. I have no problems with other guys wearing things of this nature and I actually encourage it with my friends. On the other hand, when it comes to me wearing them; I just don't think I can pull it off all that well. I would love to be able to try it, though, and so I have started looking around for something that might fit.
The only issue I have right now with the swimwear briefs that I have seen online is that they are a bit small. I am a rather large man and I need something that is going to fit me. I don't think I can get into something that looks like one of those videos where they put a bunch of rubber bands on a watermelon until it implodes. I need something that is form fitting and I simply haven't found that size just yet. I won't stop looking for them, though, as I am sure there are other larger men out there that want to wear them as well.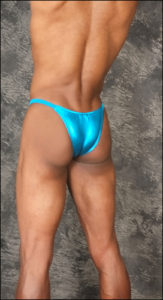 I have thought about losing some of this weight and getting into better shape so that I can wear the swimwear briefs that I have found online but I don't know if I can wait that long. It would end up taking me months to get to the point where I can wear some of these designs and I might have changed my mind by the time I get there. Although it would probably still be better for me in the long run to just go ahead and get into shape. Maybe I should do that and keep looking for briefs that I can fit into right now. It may be that I can have one of those moments when the larger size does not fit anymore and I can be happy about it.